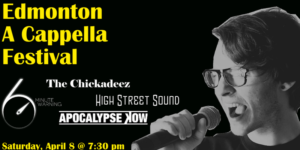 Apocalypse Kow has been working on a lot of things behind the scenes. At our big, annual goal-setting meeting, one of the things we wanted to work on this year was to get more involved with Edmonton's music community. After 18 years of operating in the secret, underground festivals (like the Fringe, Kaleido, and Festival of Trees) and performing at little-known venues (such as the Shaw Conference Centre, Commonwealth Stadium, and the Winspear Centre), we thought it was high time came out from the shadows and do a big show.
To that end, Apocalypse Kow is hosting the first Edmonton A Cappella Festival (poster at the top of this post). One night, four local groups, all a cappella. Unlike Northern Harmony, an a cappella show which we have also done, this show is a non-competitive one. We want to showcase some of the great a cappella music that is happening in our city that you may not have heard about!
The Edmonton A Cappella Festival is happening really soon – April 8th, at the Journey Church of God, doors open at 7pm, show at 7:30pm. Tickets are only $15, but if you're a student, you can get in for $5. That's right, only FIVE DOLLARS! So bring your friends, your family, your choir, anyone you think would enjoy a night of a cappella styles. In addition to Apocalypse Kow, you'll see 6 Minute Warning, The Chickadeez, and High Street Sound.
So come out to the first of what we hope to be many evenings of Edmonton a cappella. And bring your piggy bank because groups will have CDs and other merchandise available for sale at the show! If you just can't wait to buy your ticket, we have an Eventbrite page up for the festival! And you can find us on Facebook, too!