It's a quiet time for Kow. The festivals (Fringe and Kaleido) are over, four Kows have gone back to jobs after a summer break. But one thing fell by the wayside right after Fringe.
One of our friends, Trish Horobec, participated in the ALS Ice Bucket Challenge and challenged the five of us to do our own video/donation.
I know what you're thinking. "But Jago," you ponder in your mind, maybe circling the rim of your wine glass with your finger, "the ALS challenge is old news! It was overplayed the week after, let alone two months!"
You're right. By the time Trish's challenge went out, Apocalypse Kow was finishing up the run of "Apocalypse Kow Presents A Tribute to Apocalypse Kow." And then we took a week off. And then we realized that it was more work to make a video challenge where five guys were getting doused with ice and cold water. And the performers we were thinking of challenging had already made their own challenge videos. And then we wrote it in a Second Cup. (Sorry, Fringe show joke.)
So we decided to switch up our challenge. Apocalypse Kow donated to five charities that we consider near and dear to our hearts. Let's face it, the ALS Challenge was pretty darn successful. We decided to give money to some other charities to which we had some deep connection.
Stan chose The Endomitriosis Network Canada.
Devin chose the Canadian Mental Health Association, Alberta Chapter, a charity we've featured at a previous Apocalypse Kow Kristmas Kabaret.
Joel Forth chose the Heart & Stroke Foundation.
Joel Rivero chose Sorrentino's Compassion House, a place for women to stay while undergoing breast cancer treatment in Edmonton.
I chose Myeloma Canada.
Now I can't  fully speak on why the others chose their charities, but I can give you the reason I took the Kow portion to Myeloma Canada and bolstered it with a donation on my own.
Back in July, my dad was diagnosed with Multiple Myeloma, a bone marrow cancer. For the past ten years, Dad's been living without kidneys, and has been doing dialysis two to three times a week. For ten years. So I tend to think that my dad's nearly invincible. No kidneys? Okay, it's time for dialysis. He got a kidney donated that failed after being transplanted. More dialysis. He was laying on the couch when the phone rang, and he snapped his femur in half. It seems that he had parathyroid glands that were leeching calcium from Dad's diet and making his bones brittle. He got those removed, got a steel rod installed in his leg and now he's bionic. He got better. Mom could remove the chair lift that occupied the stairs for two years.
You can see how I thought my dad was made of iron. But cancer? That scared me.
I educated myself and found that as far as cancers go, multiple myeloma is treatable. There's treatments that are available in Canada and Saskatchewan, some of the treatements are new enough, but are still effective. Since August, Dad's been doing chemotherapy, and the specialists my parents have been talking to have all said that the treatment Dad is going through has a conservative estimate of years of remission.
Dad has his good days, he has his bad days. He's going to Moose Jaw's hospital for both his dialysis and chemo. He's not able to do all the handy things around the house and the lake cabin that he used to. But that's what Mom and my brother Braden are for. When I went to visit for the August long weekend, Braden and I ended up moving three refridgerators and stoves to different places. (Old ones from the cabin to the dump. House ones to the cabin. Newly purchased ones from the garage to the kitchen.) And Dad was just itching to help.
So his spirit is still good, and the treatment's doing it's job. He's still playing grandpa to my nieces with all the vigor he's ever had, as seen below. But of course, donations to the Myeloma Canada organization are always welcomed, for research, for education. I did my part, and Apocalypse Kow helped out.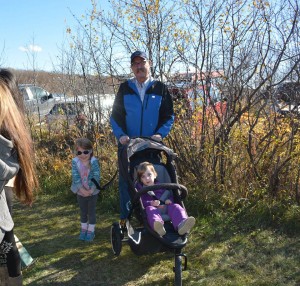 So what's our ice bucket challenge? It doesn't involve viral videos. It doesn't involve potentially hurting yourself. (Have you seen those ALS fail videos out there? There's a whole load of pratfalls and accidents. Hilarious!)
All it involves is our friends giving to charity. Christmas is coming soon. We'll have our Kristmas Kabaret announced shortly, and as always, we'll be choosing an Edmonton charity to raise money. You can come celebrate the holiday season with us and raise a few bucks. Or, if you'd like, I've hyperlinked those charities that Kow has donated to for our Ice Bucket Challenge. Go ahead and donate, if you'd like.
Thanks,
Jago